Accessible wherever, whenever.
The most efficient Accounting app
A comprehensive tool for managing all financial aspects of your business
Odoo Accounting
The Odoo accounting module is a comprehensive financial management tool that allows you to manage all aspects of your accounting and financial operations within a single platform
You can access everything
from your dashboard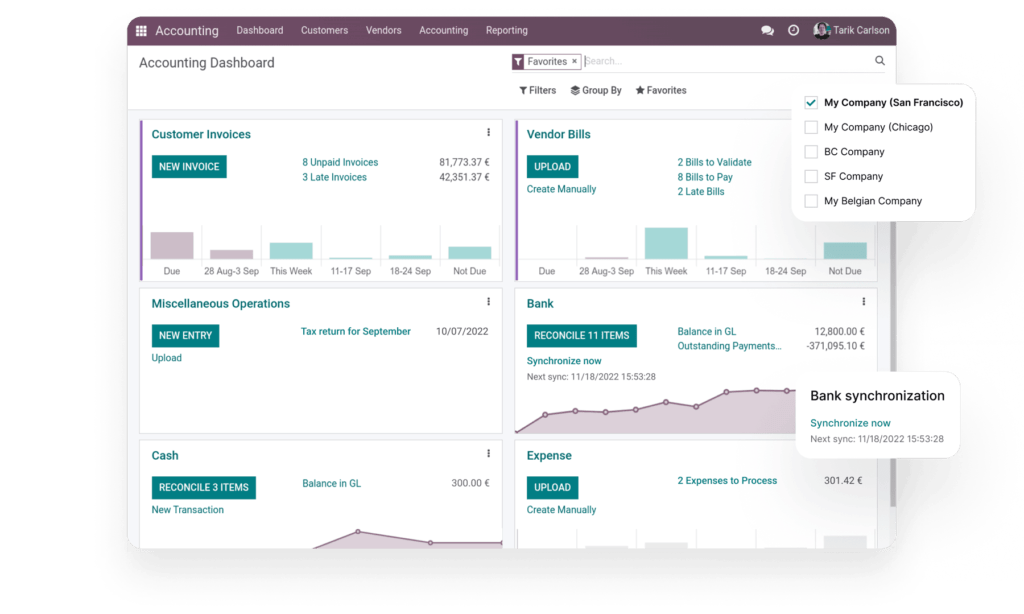 In the Odoo accounting module, the dashboard provides a summary of your financial data and key performance indicators. This may include information such as your current balance, recent transactions, outstanding invoices, and financial performance over a certain period of time. The dashboard may also provide access to key accounting tools and features, such as the ability to create and send invoices, manage your chart of accounts, and track expenses. You can customize the dashboard to display the information and tools that are most relevant to your business needs.
Tools that save you time and simplify your life
Having a carefully designed operational plan will be beneficial in financial management
Customized reports to fit your preferences
The Odoo accounting module allows users to customize the reports they generate to meet their specific needs. Reports may be generated on a regular basis, such as monthly or quarterly, and may be available in different formats, such as PDF or Excel.
Business Industries in Odoo
Each module performs certain functions which are interlinked with each other.
At Cypersystems, we are experts in Odoo and have a wealth of experience in helping organizations implement, customize, and use the platform effectively. Our team of experienced Odoo consultants has a deep understanding of the platform and can assist organizations in achieving their business goals through the use of Odoo.
If you are looking for a reliable and experienced Odoo consultancy that puts customer satisfaction first, look no further than Cyper systems. Contact us today to learn more about how we can help your organization succeed with Odoo