Easy, Quick, Smart & Flexible
Odoo POS (Point Of Sale) is a module within the Odoo software platform that enables businesses to manage their retail sales operations. The POS module includes a dashboard that provides all the tools you need to manage your retail sales from the sales counter of your shop. With Odoo POS, you can create and process orders, track inventory, handle customer transactions, and generate reports to help you analyze and optimize your sales performance. The POS module is designed to be user-friendly and easy to use, making it a convenient solution for businesses looking to streamline their retail sales operations. In addition to its POS functionality, Odoo also offers a range of other business applications, such as accounting, project management, and customer relationship management, which can be useful for businesses looking to manage all aspects of their operations in one place.
Compatible with any device
No installation and no specific hardware are required.
All the features you want
without the difficulties

Handling multiple tickets
You can activate multiple tickets simultaneously for use in a restaurant, brewery, or coffee shop to prevent your customers from having to wait.
Order notes
You can keep track of special requests and other important details by attaching notes to orders.

Cash float
You can easily keep track of all cash register adjustments and staff changes that occur throughout the day.
Quick search
You can use barcode-enabled search to quickly scan products, browse through hierarchical categories, or find information about products. This feature allows you to efficiently filter through all of your items.

Bill Splitting
You can split an order payment into multiple orders and accept payment from multiple parties, giving your customers flexibility in how they pay you. Splitting payment types is easy to do.

Barcode Support
You can create multiple barcode nomenclatures with specific rules based on your scanning patterns and product types, and assign them to a particular session at the POS backend.
No Special Hardware
"Odoo POS is compatible with a variety of devices, including desktop PCs, tablets, laptops, and industrial POS machines, so you don't need any special hardware to run it.

Unlimited products
You can sell any number or type of products with your point of sale system without any limitations.

All your data in one place
Your products, inventory, orders, and customers are automatically updated and backed up in the cloud.

User privileges
Odoo POS gives you the ability to control system access and create individual cashier accounts. You can also set restrictions as needed using the proper access rights and access rules in the backend configurations.
Multi Sessions
There's no limit to the number or type of products you can sell with your point of sale system.

eCommerce Compatible
Odoo POS is fully compatible with Odoo e-commerce. You won't need to set up separate stocks & inventory rules for the two apps. Hence, it will be surely a multi-channel business, without headaches.
Easy to setup -
Easy to use
Odoo POS has a user-friendly, attractive, and responsive interface that works seamlessly and effortlessly on desktops, iPads, and android tablets. It is easy to install and use without any complex configuration.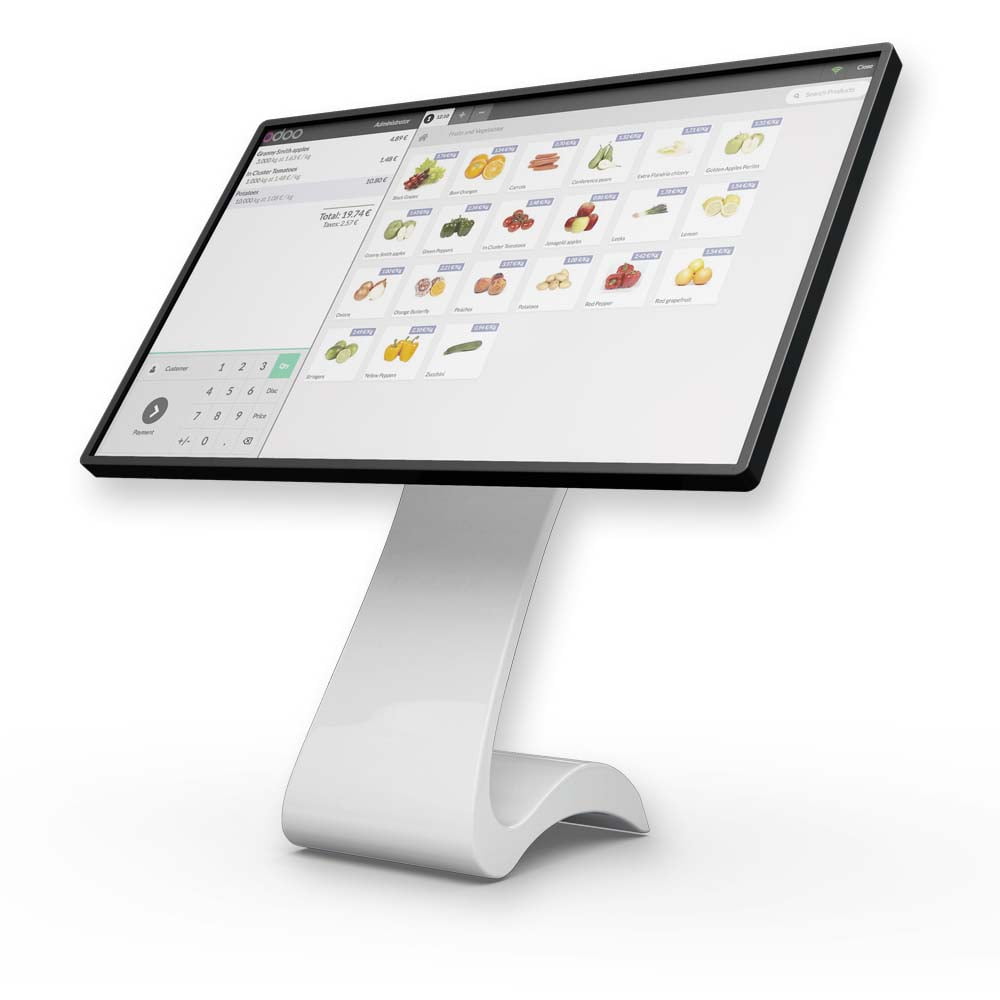 Odoo POS is a powerful yet easy-to-use app that is integrated with the stock, accounting, and other apps of Odoo. When you use Odoo POS, all transactions from the point of sale directly impact your stock without requiring any additional effort to manage it. Your products, orders, and customers, as well as barcodes and discounts, are automatically synced with the point of sale when you open a store, so you don't have to worry about updating two sets of inventory. With Odoo POS, you can identify your customers directly from the point of sale and create invoices easily and accurately, allowing you to synchronize your accounting data seamlessly and provide a great customer experience.
Restaurant or bar management
The Odoo Point of Sale system is specifically designed for use in restaurants and bars, with features that support everything from employee management to customer billing. It also includes tools for efficiently running loyalty and promotional programs.
Manage multiple sales transactions concurrently
Odoo Point of Sale is a comprehensive retail sales management tool that features an advanced and functional interface and dashboard. It allows you to manage multiple sales transactions simultaneously, making it an efficient and effective solution for retailers.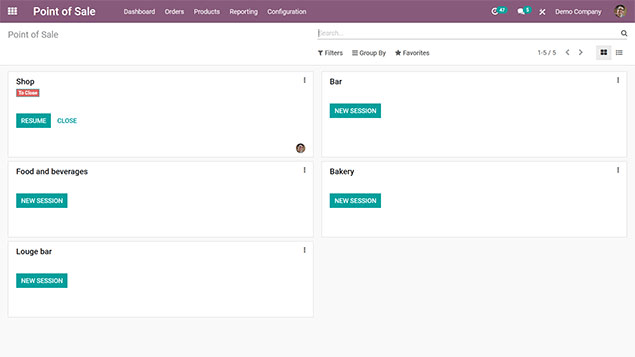 Make customer satisfaction a top priority
You can create custom loyalty programs to encourage customers to return to your store. These programs can include point allocation to help standardize operations and show appreciation to your customers.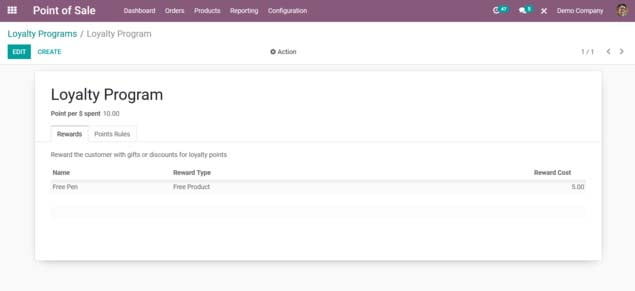 The retail sales management operations in Odoo can be customized to fit the specific needs and standard operating procedures of the retail store. This includes defining the functioning of the store and its sales processes.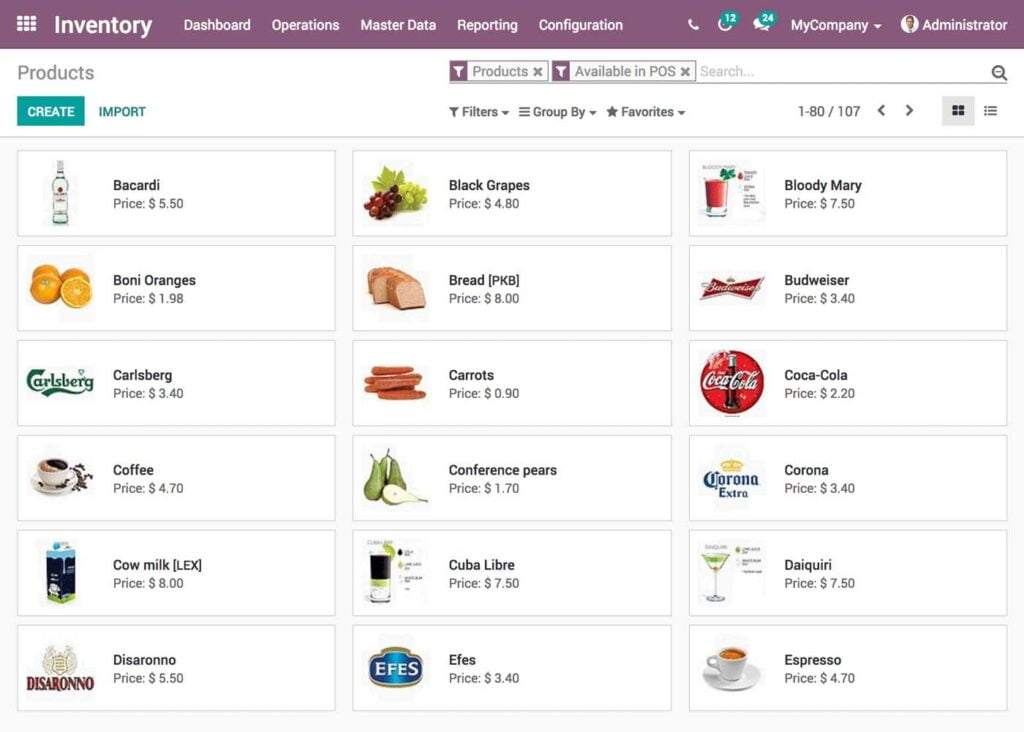 Centralized integrated inventory management
The integration of the inventory with the point-of-sale (POS) operations in Odoo allows you to avoid placing orders for products that are out of stock. Additionally, the inventory management features enable the automatic generation of product orders based on the current stock quantity. This helps to streamline and optimize inventory management.
At Cypersystems, we are experts in Odoo and have a wealth of experience in helping organizations implement, customize, and use the platform effectively. Our team of experienced Odoo consultants has a deep understanding of the platform and can assist organizations in achieving their business goals through the use of Odoo.
If you are looking for a reliable and experienced Odoo consultancy that puts customer satisfaction first, look no further than Cyper systems. Contact us today to learn more about how we can help your organization succeed with Odoo
Business Industries in Odoo
Each module performs certain functions which are interlinked with each other.